Automatic Diaphragm Valves — Standard Actuator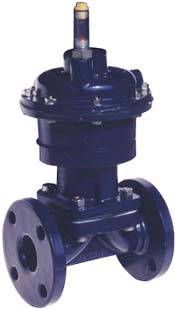 The GIE, Inc. broad line of diaphragm valves is widely applied throughout the chemical, food, paper, steel, mining, pharmaceutical, and other process industries wherever positive shut-off, non-contamination, or ease of maintenance is required.
Available with a wide range of manual and automatic actuators, these valves are available with weir style and straightway flow patterns. Sizes range from 1/2″ thru 3″ threaded or weld ends: and 1/2″ thru 12″ flanged ends. Pressure ratings to 200 psi and temperatures to 340 F.
Compact- Low Profile
With the specially designed flat-top bonnet, the GIE, Inc. actuator provides a strong, totally enclosed unit with extremely low over-all height.
Wide Selection
Actuators furnished in seven sizes to provide more efficient and economical use of available operating air pressures up to 200 psig.
Longer Strokes
Together with higher air pressure capability provides greater flexibility in valve/actuator selection. Example, the No. 0 (smallest actuator) has more than double the stroke of its nearest competitor.
Lower Air Consumption
Because of unique design, air consumption is extremely low— in most instances less than half that of competition.
Adjustability
In the spring-closed actuator, the adjusting screw provides a convenient means of obtaining valve closure when line pressures are higher than expected.
Adaptability
Suitable for either pneumatic or hydraulic operation, the unit can be mounted in vertical, horizontal, or any intermediate position.

The unsurpassed performance and dependability of GIE, Inc. valves are the culmination of up-to-date technical know-how combined with its modern automated system of production, which is the latest in the valve industry today.
Contact us today for MORE INFORMATION

[wpforms id="1591″ title="false"]